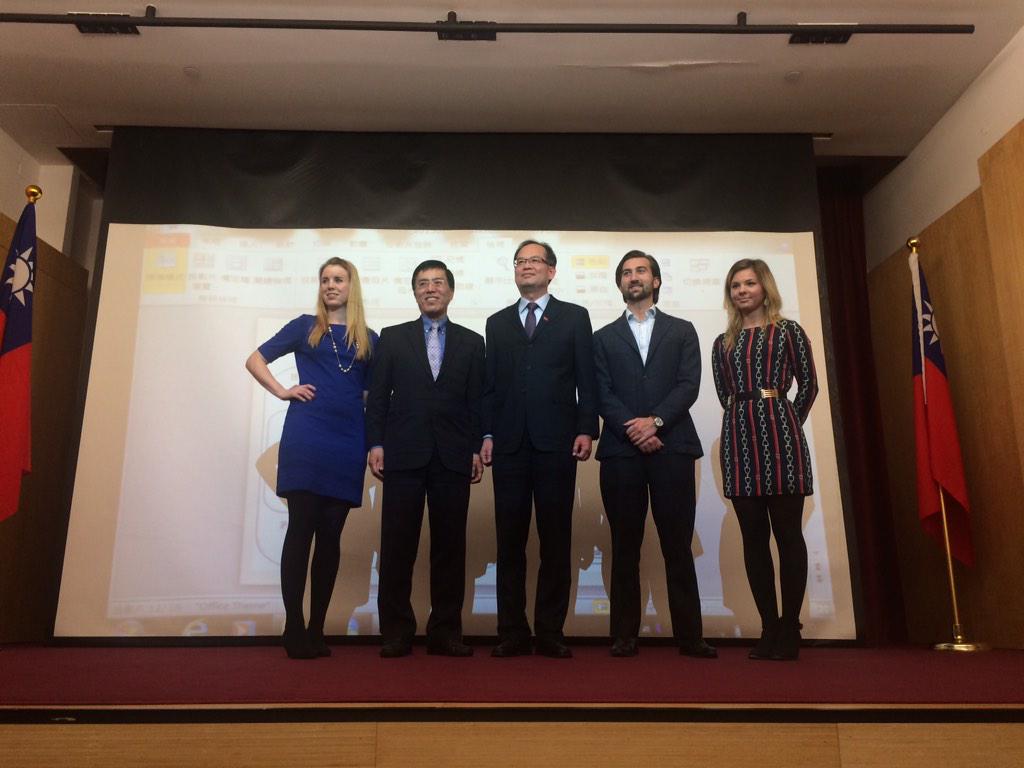 YPFP NY staff with Professor Wang (second from left) and Ambassador Chang (third from left). (Jerry Doran/YPFP NY)
"It's pretty clear by now that Taiwan is an important, but often overlooked global player," Professor Vincent Wei-cheng Wang of the University of Richmond told a gathering of  YPFP NY members at the Taipei Economic and Cultural Center on January 15, 2015, as a part of the ongoing Global Diplomacy Series.
Ambassador Paul Wen-liang Chang, noted in his welcome remarks to YPFP NY members that "over the past few decades, Taiwan has emerged on the world stage as an economic powerhouse and a beacon of democracy in East Asia."
The inevitable comparisons to China may understate Taiwan's potential as a partner, but in its own terms, Taiwan's size and its economy may surprise many: the country's population is comparable to Australia, and its nominal Gross Domestic Product (GDP) is larger than Argentina's.
"Because people think relations with Taiwan is only a factor of relations with China, they forego the full potential of a partnership with Taiwan. This is a lose-lose-lose situation for everyone," Wang argued.
Wang also called on U.S. lawmakers to help Taiwan achieve greater regional economic integration. Taiwan is the United States' tenth largest trade partner, ahead of populous India and oil-rich Saudi Arabia. Inclusion in the Trans-Pacific Partnership negotiations, for example, would bolster Taiwan and strengthen the agreement. If Taiwan were a member of Trans-Pacific Partnership (TPP), it would the bloc's sixth largest economy.
Taking a question from an YPFP NY member about U.S.-China relations, Wang said there is space for both powers in the Asia-Pacific region. "Most countries in Asia want a peaceful rise of China. They think the more China trades, the less belligerent they will be," he said. "But they want the United States to stay as well. This provides an opening for the U.S. pivot to Asia."
Visit Twitter for a social media recap of the event.
The Global Diplomacy Series offers YPFP NY members the opportunity to engage with the most distinguished diplomatic representatives in New York, including diplomats from permanent missions, consulates, and embassies. Discussions are typically off-the-record, open to a limited number of attendees, and take place at the relevant embassy, residence, or cultural office. 
Juan Machado is Associate Director of Communications for YPFP NY.

The opinions expressed in this article are the author's own and do not reflect the views of their employer or Young Professionals in Foreign Policy.
Share this post:
---