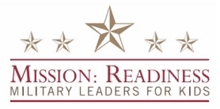 Organization Description
Mission: Readiness is the nonprofit, nonpartisan organization led by hundreds of retired generals and admirals calling for smart investments proven to help young people succeed academically, stay physically fit, and abide by the law so that they can succeed at whatever they choose in life. Issue areas include high-quality preschool, which is proven to improve graduation rates and reduce future crime rates, and promoting a healthy school environment by getting junk food out and physical activity back in. Mission: Readiness has been widely featured on national news outlets ranging from FOX and CNN to NPR, USA Today and the New York Times. Mission: Readiness is a project of the Council for a Strong America.
Mission: Readiness mobilizes retired generals and admirals to address the fact that 75% of young Americans today are unable to join the military due to problems with education, crime, or physical fitness. The goals of this position are to (1) create an active presence of retired senior military leaders in key states across the country; (2) formulate and execute action plans based on internal assessments and outreach with state allies to determine policy opportunities and threats, and (3) organize and manage activities ranging from press conferences to meetings with state and federal policymakers.
Job Description and Qualifications:
We are seeking an energetic and strategic thinker with a passion for helping kids get the best start in life.
Ideal candidates will have a college degree and a minimum of 5 years paid, professional experience in advocacy, public policy, and/or campaigns. Must have proven experience enlisting and mobilizing people to take action.  Successful candidates will possess excellent oral and written communication skills; interpersonal skills; and, a solid understanding of the legislative process. 
Military experience or knowledge of the military community is desired. Experience with early childhood development, education, and/or fitness policies, research, and programs are a plus. Moderate domestic travel is required for this position.
Salary will be comparable to other nonprofit organizations and includes excellent benefits such as individual and family health and dental coverage, generous paid time off, and employer retirement contribution.
How to apply
Please send completed questionnaire (below), resume and cover letter to: Jobs@MissionReadiness.org
Mission: Readiness is an equal opportunity/affirmative action employer that appreciates the value of diversity and its impact on a high-performance culture. No phone inquiries, please.
Mission: Readiness Senior Associate Questionnaire
1. Your name:
2. Telephone:
3. Why are you interested in this position?  (If you feel you have already said in a cover letter all that you want to say on this subject, you may skip this question.)
4. Please highlight your experience in the following areas:
Enlisting others in a cause, project, or concept you believe in;
Organizing events or press conferences;
Public speaking and giving presentations; and
5. Please highlight any experience you have in working:
In a legislative environment;
With the military community; and
In a membership-oriented organization.
6. Please indicate:
•  The salary you think you should be paid if you are hired for this position:
•  Your salary in your last/current position (if applicable):
7. How did you hear about this opening?  (Please be specific, e.g, who referred you or what publication or website listed the position)
8. Additional comments (if you choose):
Share this page: