Please join YPFP NY on Wednesday, September 17, 2014, for a discussion with Julia Cooke, author of The Other Side of Paradise: Life in the New Cuba at the Havana Club Room pop-up at the Soho Grand Hotel, featuring artwork by contemporary Cuban artist Damian Aquiles.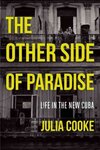 Change looms in Havana, Cuba's capital, a city electric with uncertainty yet cloaked in cliché, 90 miles from U.S. shores and off-limits to most Americans. Journalist Julia Cooke, who lived there at intervals over a period of five years, discovered a dynamic scene: baby-faced anarchists with Mohawks gelled with laundry soap, whiskey-drinking children of the elite, Santería trainees, pregnant prostitutes, university graduates planning to leave for the first country that will give them a visa. This last generation of Cubans raised under Fidel Castro animate life in a waning era of political stagnation as the rest of the world beckons: waiting out storms at rummy hurricane parties and attending raucous drag cabarets, planning ascendant music careers and black-market business ventures, trying to reconcile the undefined future with the urgent today.
Books will be available for purchase at the event, and time will be made available after Ms. Cooke's remarks for book signing. Stick around after the event for $8 drink specials and more mingling with other attendees.  
This event is co-sponsored by the Georgetown Metropolitan Club of New York.  

RSVP: Registration will take place on a first come, first serve basis, giving YPFP members priority. Sign into your member account and click the RSVP button below.

If you are a current YPFP member but have not yet been able to gain access to the website, please sign up to attend here and email Kara.DeDonato@ypfp.org.
WHEN
September 17, 2014 at 6:30pm - 8:30pm
---