Global health diplomacy leverages a widely agreed-upon goal—a healthier, safer world—to develop the foundation for diplomatic relations in other sectors.
Join YPFP an Project HOPE NEXTGen for a discussion with Jimmy Kolker, Assistant Secretary for Global Affairs at the Department of Health and Human Services, on the role of global health diplomacy in foreign policy and global security.
Introductory remarks will be made by Thomas Kenyon, MD, MPH. 
 --
About Assistant Secretary Jimmy Kolker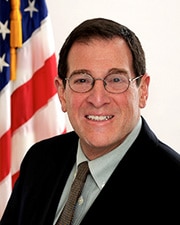 Jimmy Kolker is the Assistant Secretary for Global Affairs at the U.S. Department of Health and Human Services (HHS). In this role, Ambassador Kolker is the Department's chief health diplomat, representing the United States at World Health Organization meetings and as alternate Board Member of the Global Fund to Fight AIDS, Tuberculosis and Malaria. The Office of Global Affairs advises the Secretary and HHS's operating and staff divisions on global health and human services issues.
Amb. Kolker had a 30 year diplomatic career with the U.S. Department of State where he served as the U.S. Ambassador to Uganda (2002-2005) and to Burkina Faso (1999-2002). From 2005-2007, he served as Deputy Global AIDS Coordinator in the Office of the U.S. Global AIDS Coordinator, leading implementation of the President's Emergency Plan for AIDS Relief (PEPFAR). Amb. Kolker was Deputy Chief of Mission at U.S. embassies in Denmark and Botswana and won awards for political reporting at earlier posts in the UK, Sweden, Zimbabwe, and Mozambique.
From 2007-2011, prior to joining HHS, Amb. Kolker was Chief of the HIV and AIDS Section at UNICEF's New York headquarters. In this role, he led UNICEF's work on HIV and AIDS, focusing on mother-to-child-transmission of HIV, pediatric treatment, prevention among adolescents and young people, and protection for children and families affected by AIDS.
Amb. Kolker grew up in St. Louis, Missouri. He holds a Master's in Public Administration from Harvard Kennedy School of Government and a B.A. magna cum laude from Carleton College in Minnesota. He was a Thomas J. Watson Foundation Fellow (1970-1971). He speaks French, Swedish, and Portuguese.


About the Office of Global Affairs, Department of Health and Human Services
"The health, safety, and well-being of Americans and people around the world are more closely linked than ever before. People move around and travel more, and so do the things we consume—our food, our medicine, even what we feed our animals. The U.S. Department of Health and Human Services must engage globally in order to protect and promote the health and well-being of Americans at home.
"An increasingly connected world can present challenges; but it can also create opportunities. At HHS, our scientists, epidemiologists, and policy experts work with their counterparts around the world to exchange best practices and share technical expertise to advance global health priorities and our own research. We collaborate on a range of efforts, including strengthening health and health systems, ensuring trade policy reflects public health needs, and providing the human services that address the education, social, and economic factors that are critical to health and well-being.
"Through global action, we protect and promote health at home and contribute to a healthier, safer world."
--
This event is co-hosted by YPFP and Project HOPE NEXTGen.
About Project HOPE NEXTGen
The Project HOPE NEXTGeneration Leadership Board (NEXTGen) is a group of young professionals, innovators and entrepreneurs committed to ensuring the legacy of Project HOPE (Health Opportunities for People Everywhere) for the next generation. NEXTGen members mobilize their networks and help raise awareness of the global impact of Project HOPE's work and its mission to provide lasting solutions to health problems around the world. Project HOPE is currently active in more than 30 countries, delivering health care, health education and training, humanitarian assistance and disaster relief. For more information, visit www.projecthope.org.
YPFP and Project HOPE NEXTGen first partnered in February 2016 for, "Securing HOPE," a panel discussion featuring some of the most respected names in the national security and global health fields. The two young professional groups share the common mission of addressing global challenges and they will continue partnering to offer thought-provoking educational events that engage the next generation of leaders in the future of global health and foreign policy issues.
About Dr. Thomas Kenyon
Dr. Kenyon joined Project HOPE as President and Chief Executive Officer on September 14, 2015. Prior to returning to Project HOPE, Dr. Kenyon served 21 years with the U.S. Centers for Disease Control and Prevention (CDC), most recently as Director of the Center for Global Health, where he was responsible for overseeing four major global health Divisions: Global HIV/AIDS, Global Immunizations, Parasitic Diseases and Malaria, and Global Health Protection.
WHEN
August 25, 2016 at 6:30pm - 8pm